Are you a student looking for professional help with your proofreading and editing needs?
Our professional proofreading and editing service is designed to help ensure students don't drop precious marks for weaknesses in their written English.
If you are reading this website it is likely you found us through a recommendation from a friend, colleague or fellow student. We rely on word-of-mouth for our business and we can do only do so by delivering a quality customer experience for our clients.
We are proud to have proofread and edited over 1,000 documents for students from all over the world in the last twelve months alone.
Why choose Proofreading Service UK?
There are many proofreading and editing companies on the internet; some are good, some are definitely not. We believe we distinguish ourselves from other proofreading services for the following key reasons:
1) We only hire the very best proofreaders with the highest qualifications and experience
This ensures that we deliver the highest quality proofreading and editing work to our clients, every time.
2) Our pricing is extremely competitive
By keeping our business operating costs very low and by taking smaller profit margins than our competitors, we are able to offer the very best pricing.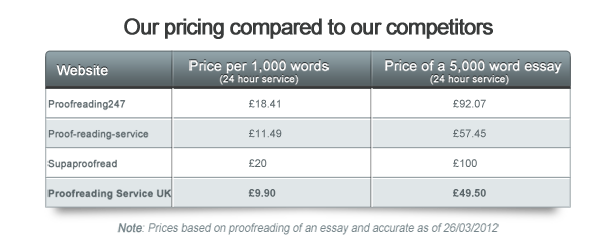 3. An academic editor that is a suitable fit for your topic/discipline
Whilst we cannot guarantee to match your document with an expert in the specific field, we will be able to assign it to someone with a knowledge and experience in the wider discipline of your subject.
For example, if your topic was the pre-20th century American politics, we could not guarantee that we would be able to assign your document to an expert in early American politics. However, we would ensure that your work was assigned to a proofreader with experience in the wider field of politics and social sciences. This ensures that they will have a good understanding of the subject's style requirements and technical language.
The same example can be applied to any area of academia, e.g. submit a biology paper and we will match it as much as possible with a proofreader with editing experience in the wider area of human sciences and so on.
4) We provide responsive and flexible customer support
We typically reply to emails within two hours; usually far sooner. However, in the unlikely event we do not reply to you within this timeframe (e.g. in the early hours of the AM, UK time) you can always rest assured that your document will reach you for the deadline.
4) Our ordering process is easy, quick and secure
We believe when you are paying for a service, it should be easy to order and everything else should be taken care of for you. Our ordering process is very simple, requires just three minutes and securely takes payments via PayPal (accepts all major credit/debit cards and does not require registration).
5) We operate with 24/7 efficiency, delivering prompt and timely turnarounds
No matter what hour you submit your document, you can rest assured that it will be delivered within the deadline. Click here for turnaround times.
Are you an ESL student? Is English your second language?
A large portion of our work is for ESL students from all over the world. If you are an ESL student our expert proofreaders are available to give your document a thorough review to ensure your writing reads in a clear and academic manner.
Writing in a second language is always challenging. However, writing outside of your mother tongue to an academic standard is even harder. If you are worried about your English grammar, sentence structure or simply want to have your writing reviewed to ensure it is in an academic style, our proofreaders will be happy to help.
If you have a question, please check our FAQs section or alternatively you can contact us here.