Do you have a question?
Check the FAQs below or contact us for further information.
What do your services include?
Our high quality professional proofreading and editing services include improvements to:
Academic tone, lexis and vocabulary(students/academics)
Consistency of tenses
Wordiness and redundancy or repetition
Sentence structure, syntax and paragraph structure
Grammar and punctuation errors
Presentation and formatting
All changes are highlighted using the MS Word 'Track Changes' feature so that you can see where improvements have been made.
You can review these changes individually or simply click 'accept all changes' and your document will be ready to print.
We can edit your document to any style guidelines (e.g. APA, MLA, Chicago, Oxford, etc.) or any other requirements that you may have.
Click here to find out more about how we can improve your writing.
How do I order?
The most convenient method for you to submit your document and payment is via the secure online ordering system.
PayPal accepts all major credit and debit cards and does not require registration to make a payment. PayPal is widely regarded as the most secure, convenient and fast method of making a payment online.
If you have any queries, feel free to contact us and we will be happy to assist you.
When will my proofread document be returned? What are your prices?

Our current turnaround times and prices are: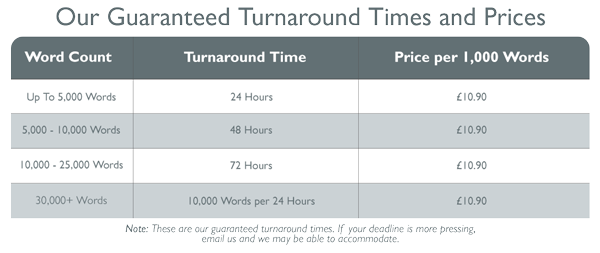 We pride ourselves on our prompt and reliable turnaround times. In contrast to many of our competitors, we do not charge extras for a 24 hour services. We understand how important it is for our clients to receive their documents back on time.
If your deadline is more pressing, please contact us and we may be able to accommodate you.
Are you open on weekends?
We are open for business 24 hours a day, 7 days a week, 365 days a year. Rest assured that no matter what time you submit your document we will return it to you, proofread and edited within our guaranteed turnaround times.
Do you offer a customer satisfaction guarantee?
If, for any reason, you are dissatisfied with any part of our service, please contact us and we will do our best to swiftly resolve it for you. In the unlikely event you are unhappy with the service you receive and can cite credible reasons we will refund you.

What experience and qualifications do your editors possess?
Our proofreaders and editors are highly experienced professionals with Master's Degrees/PhDs from top British universities.
Our team is experienced in a wide range of academic disciplines. We will always assign your document to the editor with the most relevant experience to your field. However, we cannot always guarantee a subject-specialist and should you require this we recommend trying this agency.
For consistency, you may specify to have the same editor to review all of your work.
Many of our proofreaders and editors are associates of the Society for Editors & Proofreaders (SfEP).
Will my work be kept confidential?
We take your privacy very seriously. Your document will be kept in the strictest confidence and only the Client Services Manager and your assigned proofreader will see it. After we have returned your proofread document to you we will delete our copies.
What document file formats do you accept?
We accept all Microsoft Word files including document (.doc / .docx), text (.txt) or rich text format (.rtf). We also accept PDF and LaTeX files (please see below for details). However, some formatting may be lost. If you are using OpenOffice, it is possible for you to save your document as a compatible file by clicking: Save as >Document file type: >doc / docx / txt / rtf.
Do you accept PDF files?
We can review PDF files; however, we prefer Microsoft Word documents whenever possible. This is because the Track Changes feature in Word is superior to the PDF equivalent, in terms of highlighting amendments.
PDF files will be annotated using sticky notes in Adobe Reader. As such, in order to apply the changes to your document, you will have to insert them manually using your publishing software (e.g. Reader).
Another option is to use the free online PDF-to-Word file converter at: https://www.pdftoword.com.
Please email us if you have any further questions regarding PDF proofreading and editing.
Do you accept LaTeX files?
If you export or copy-and-paste your LaTeX text in to a Microsoft Word document or similar, we will proofread and edit your file, whilst leaving any programming commands intact. Afterwards, you can simply copy-and-paste the text back into LaTeX.
Will I receive a hard copy of my edited document?
No, printed copies will not be provided. We will return your work via e-mail in MS Word (.doc/.docx) format.
Do you provide essay writing services?
No, we do not offer this type of service.